Overview
This collaborative initiative aims to facilitate ongoing research cooperation between the fields on engineering and medicine to address the humanitarian aspects of blast injury and protection research and to promote wider collaboration between academia, industry, defence, clinicians and humanitarian organisations.
---
Outputs (publications)
Research Investment Mapping
How much has been invested into blast injury research? What was funded? How has funding changed in the last 20 years? What about the future? Our results are published in BMJ Military Health.
We report how ~$900 million of public and philanthropic research funding has been invested into blast injury-related research & blast traumatic brain injury over the last 20 years. (doi: http://dx.doi.org/10.1136/bmjmilitary-2020-001655)
The Problem: There is little systematic tracking or detailed analysis of investments in research and development for blast injury to support decision-making around future research funding and prioritisation.
What we're doing: This study examined global investments into blast injury-related research from public and philanthropic funders across 2000-2019, building a comprehensive investment map. Our methodology builds on previously published work by the RESIN study (link). Within this map, research has been defined as discrete projects that generate new knowledge about blast injury-related science. We analysed funding from public and philanthropic funders to provide detailed insight into the diversity of funding within the blast injury field and national research strengths through our up-to-date investment database. Our highly-granular database has allowed us to understand the extent of the research and corresponding scientific approaches that have been funded. Our database can be interrogated and augmented to answer user-defined and specific questions regarding research landscapes. To discuss possibilities for bespoke analysis please contact us (link).
Results so far: a total of 806 awards were identified into blast injury-related research globally, equating to US$902.1 million (m, £565.9m GBP). There was a general increase in year-on-year investment between 2003 and 2009 followed by a consistent decline in annual funding since 2010. Pre-clinical research received $671.3 m (74%) of investment. Brain-related injury research received $427.7 m (47%), orthopaedic injury $138.6 m (15.4%), eye injury $63.7 m (7%) and ear injury $60.5 m (6.7%). Blast traumatic brain injury research received a total investment of $384.3 m, representing 43% of all blast injury-related research. The U.S. Department of Defense funded $719.3 m (80%).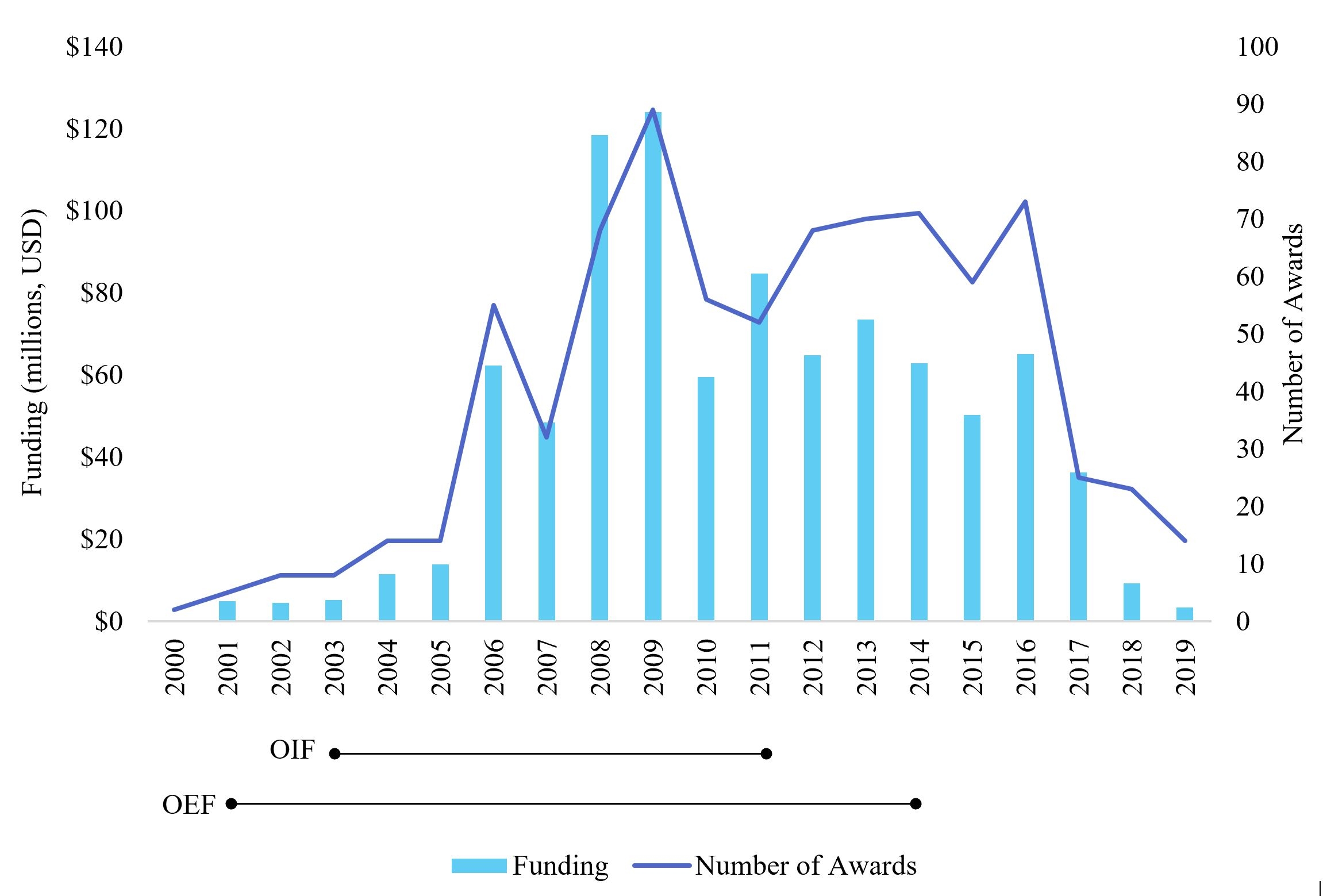 Figure 1: Investment into global blast injury related research from 2000-2019.
Conclusions: Investment data suggest that blast traumatic brain injury research has received greater funding than other blast injury health areas. The funding pattern observed can be seen as reactive, driven by the response to the War on Terror, the rising profile of blast traumatic brain injury and congressionally mandated research.
Guiding Blast Injury research with Blast Engineering 'Zones of relevance'
Utilising our blast engineering expertise, we are undertaking systematic, scientific reviews of blast injury studies to determine how adopted loading conditions correspond to real-world explosive scenarios. We are reviewing the methodologies undertaken and determining the key shock wave parameters (the blast loading conditions) adopted or assumed within studies. This applied research is providing detailed insight into the different approaches being adopted in contemporary blast injury research and will:
Determine the distribution of blast loading conditions being adopted, how these have changed over time and identify knowledge gaps such as overlooked blast threats.
Determine the nature of methodologies being used in blast injury studies (i.e. experimental & computational).
Investigate the rationale behind the blast loading conditions adopted.
Determine the most appropriate methodologies and their respective limitations.
Establish a framework to maximise the relevance of future blast injury research to inform health outcomes.
Published work
This work has so far resulted in two publications:
1. "DEFINING BLAST LOADING 'ZONES OF RELEVANCE' FOR PRIMARY BLAST INJURY RESEARCH: A CONSENSUS OF INJURY CRITERIA FOR IDEALISED EXPLOSIVE SCENARIOS" MEDICAL ENGINEERING PHYSICS.
Work to define blast loading conditions for injury research has received relatively little attention, though with a continued experimental focus on primary blast injury (PBI) and idealised explosion assumptions, meaningful test outcomes and subsequent clinical applications, rely on appropriate simulated conditions. This paper critically evaluates and combines existing PBI criteria (grouped into those affecting the auditory system, pulmonary injuries and brain trauma) as a function of idealised blast wave parameters.
Highlights from the article include:
There lacks consensus in the application and assumptions of PBI predictive criteria.
Existing PBI criteria can define zones of clinically-relevant blast wave parameters.
Application of PBI criteria could support clinical response to explosion incidents.
Further work is needed to define blast exposure thresholds for mild blast traumatic brain injury (bTBI).
See the full article at: https://doi.org/10.1016/j.medengphy.2021.05.014
2. "GUIDELINES TO INFORM THE GENERATION OF CLINICALLY RELEVANT AND REALISTIC BLAST LOADING CONDITIONS FOR PRIMARY BLAST INJURY RESEARCH" BMJ MILITARY HEALTH.
At present, there are no guidelines specifically for the design or specification of appropriate blast wave parameters within experimental primary blast injury (PBI) studies. Through analysis of PBI criteria and theoretical blast wave calculations, zones of blast parameters are proposed to guide experimental designs.
Key messages include:
The range of blast conditions of relevance to PBI research is limited, prompting reason for researchers to consider whether loading conditions are appropriate.
While many experimental loading conditions are achievable, this analysis demonstrated limits that should be observed to ensure loading is clinically relevant, realistic and practical.
To simulate loading conditions found outside the fireball and of clinical relevance to PBIs, generated blast waves should correspond to blast scaled distances 1.75<Z<6.0.
Blast waves with positive phase durations (2-10ms) are typically more practical to achieve, while representing realistic threats such as IEDs (i.e. 1-50kg TNT equivalent).
See the full article at: http://dx.doi.org/10.1136/bmjmilitary-2021-001796
For more information or collaboration, contact Dr Jack Denny (Jack.Denny@soton.ac.uk).